I thank all who have loved me in their hearts,
With thanks and love from mine. Deep thanks to all
Who paused a little near the prison-wall
To hear my music in its louder parts
Ere they went onward, each one to the mart's
Or temple's occupation, beyond call.
But thous, who, in my voice's sink and fall
When the sob took it, thy divinest Art's
Own instrument didst drop down at thy foot
To hearken what I said between my tears,Sÿ
Instruct me how to thank thee! Oh, to shoot
My soul's full meaning into future years,
That they should lend it utterance, and salute
Love that endures, from Life that disappears!

Elizabeth Barrett Browning (1806-1861)
Sonnets from the Portuguese XLI (1850)


In scenery I like flat country.
In life I don't like too much to happen.

In personalities I like mild colorless people.
And in colors I prefer gray and brown.

My wife, a vivid girl from the mountains,
says, "Then why did you choose me?"

Mildly I lower my brown eyes —
There are so many things admirable people do not understand.

William Stafford (1914-1993)
from Stories That Could Be True (1961)


Men Marry What They Need. I Marry You

Men marry what they need. I marry you,
morning by morning, day by day, night by night,
and every marriage makes this marriage new.

In the broken name of heaven, in the light
that shatters granite, by the spitting shore,
in air that leaps and wobbles like a kite,

I marry you from time and a great door
is shut and stays shut against wind, sea, stone,
sunburst, and heavenfall. And home once more

inside our walls of skin and struts of bone,
man-woman, woman-man, and each the other,
I marry you by all dark and all dawn

and learn to let time spend. Why should I bother
the flies about me? Let them buzz and do.
Men marry their queen, their daughter, or their mother

by names they prove, but that thin buzz whines through:
when reason falls to reasons, cause is true.
Men marry what they need. I marry you.

John Ciardi (1916-1986)
from I Marry You (1958)


open your heart:
i'll give you a treasure
of tiniest world
a piece of forever with

summitless younger than
angels are mountains
rivery forests
towerful towns (queen

sprout heroes of moonstar
flutter to and
swim blossoms of person) through

musical shadows while hunted
by daemons
see the luminous
leopards (on wingfeet of thingfear)

come ships go
snowily sailing
perfect silence.
Absolute ocean

e.e. cummings (1894-1962)
from 1 x 1 (1944)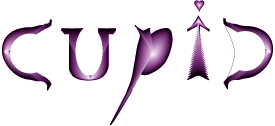 You are surrounded
by his loving arms—
his bows strung & unstrung
pointing away from you,
his sword sweeps closely
and just when you think
you're safe, his arrow
pierces your heart
and you want to kiss
every blade of grass,
soar with the West Wind
up to cirrus clouds brush-
stroking the skies, seeing
beauty everywhere,
you ride a raindrop back
to this dear earth
Peter Y. Chou
Palo Alto, 2-12-93

Oriental Love Poems
You and I
have so much love
that it burns like fire,
in which we bake a lump of clay
to mold a figure of you
and a figure of me.
In a moment of passion,
we break the images to pieces,
and mix them in water,
knead and mold again
an image of you
and another of me.
Now I am in your clay
and you are in my clay.
In life we share a single quilt.
In death we'll share one coffin.
Kuan Tao-shêng (1262-1319))
Kenneth Rexroth & Ling Chung (Ed. & trans.)
The Orchid Boat: Women Poets of China (1972)
Butterfly
time of late spring
girl slender in a light yellow dress
leans in the window trying to paint him
As if she's with him in the flowers
coupled, together and flying
She can't help it if her tears wet the paint
Making his wings too heavy to lift
— Chang Pi
(of the Five Dynasties, 10th century)
from John Scott (Ed. & trans.) Love & Protest (1972)

Genji: May the course of our love be clear
as the waters of yonder lake,
from which, in the spring sunshine,
the last clot of ice has melted away.
Murasaki: On the bright mirror of these waters
I see stretched out the cloudless years
love hold for us in store.
Lady Murasaki (978-1025)
Genji Monogatari, III.5.468

The moment I heard my first love story
I began searching for you, not knowing
how foolish that was. True lovers don't meet
somewhere out there, but are in each other all along.
Jelaluddin Rumi (1207-1273)
Quatrains 1246

I asked for one kiss: You gave me six.
The teacher is now the student.
Good and generous things grow
in me, and the air is dancing.
Jelaluddin Rumi (1207-1273)
Quatrains 1193

The clear bead at the center changes everything.
There are no edges to my loving now.
I've heard it said there's a window that opens
from one mind to another,
but if there's no wall, there's no need
for fitting the window, or the latch.
Jelaluddin Rumi (1207-1273)
Quatrains 511