Cat Mythology: Its eyes being variable, he cat symbolizes the varying power of the sun and the waxing and waning of the moon and the splendour of the night; it also denotes stealth; desire; liberty. As black it is lunar, evil, and death; it is only in modern times that a black cat has been taken to signify good luck. Amerindian: The wild cat portrays stealth. Celtic: Chthonic powers; funerary. Chinese: A yin animal as nocturnal; powers of evil; powers of transformation. A strange cat is unfavorable change; a black cat, misfortune, illness. Christian: Satan; darkness; lust; laziness. Egyptian: Lunar; sacred to Set as darkness; as lunar the cat can also be an attribute of Isis and of Bast, the moon; it represents pregnant women as the moon makes the seed grow in the womb. Graeco-Roman: Attribute of the lunar Diana. The goddess of liberty has a cat at her feet. Japanese: Powers of transformation; peaceful repose. Scandanavian: Attribute of Rreyja, whose chariot is drawn by cats. Witchcraft: A familiar and disguise of witches; the black cat as the witches' familiar is evil and ill luck. Cats and dogs as witches' familiars are rain-makers.
— J.C. Cooper, An Illustrated Encyclopedia of Traditional Symbols 1978, p. 30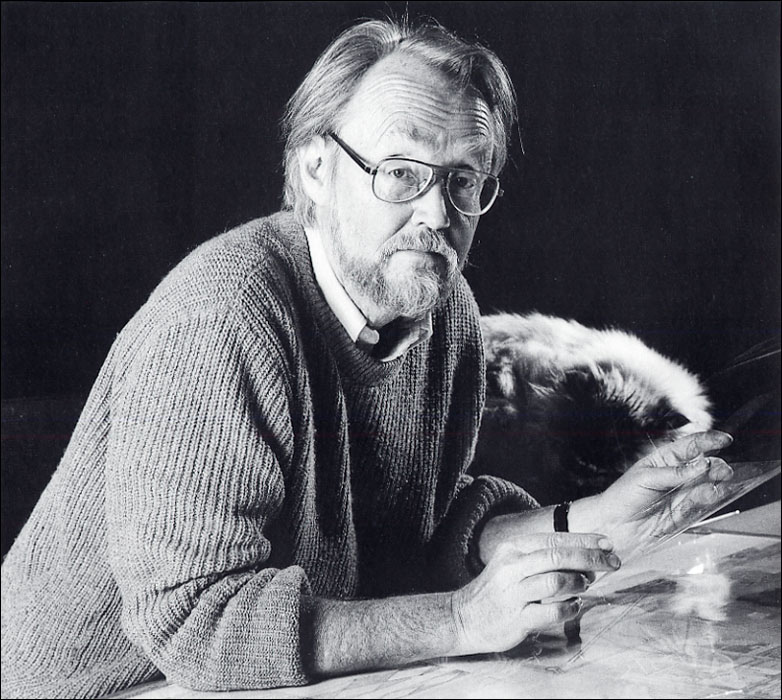 Final Remarks: Peter Milton loves cats. In his photo from The Primacy of Touch (1993), a cat is sleeping on a circular table behind him. In his photo from Peter Milton: Complete Prints 1960-1996 (1996), a cat is beside his left elbow while he works. The cat is sacred to the ancient Egyptians and many cat sculptures were found in temples. Perhaps Peter Milton honors this sacredness in sacred geometry that pervades his artwork done with meticulous architectural precision. James Joyce told his friend David Powers "Whenever I walked through the British Museum, I was always impressed by the Assyrian and Egyptian monuments... and those Egyptian figures of birds and cats. It always occurred to me that both the Assyrians and the Egyptians understood better than we do the mystery of animal life, a mystery which Christianity has almost ignored, preoccupied as it is with man, and only regarding animals as the servants of man, I cannot remember at the moment a sympathetic mention of a dog or a cat in the New Testament... Indeed since the advent of Christianity we seem to have lost our sense of proportion, for too great stress is laid on man, 'man made in the image of God', and I think that the Babylonian star-worshipper had a greater sense of religious awe than we have." [Arthur Power, Conversations with James Joyce (1974), p. 48]. We find in Joyce's Ulysses (1922) page 55: "good cup of tea, the cat mewed in answer". In "About my drawings" (The Primacy of Touch, 1993, p. 15), Milton writes "I do love to draw. I feel that I am being granted membership in the Brotherhood of Merlin, conjuring forth some apparition." (Note: There is a cat story of Merlin and King Arthur, as well as a Carrie Hawks fantasy art of "Merlin Magician Cat Wizard"). In striving for a unified equilibrium in his work, Milton says "If a painting achieves this unity, there will be for me a magical and haunting sense of serenity. The more the balance is arrived at through complexity, the more satisfying the ultimate serenity becomes." (The Primacy of Touch, 1993, p. 16). With a cat near his work table, Peter Milton finds serenity in complexity that is conveyed to us as we marvel at the multi-level dimensions in his pictures and their richness of meaning.
— Peter Y. Chou, Stanford Art Library, 9-9-2009