Commentary on Poem "The Kiss of Bliss":
Greta Garbo playing Queen Christina kisses her maiden Emma Sparre
on the lips. Some say that this was the first lesbian kiss on screen

Queen Christina is a pre-code Hollywood feature film (1933) loosely based on the life of 17th century Queen Christina of Sweden. It was directed by Rouben Mamoulian, starring Swedish-born actress Greta Garbo. Christina, who first took the throne at age 6 upon the death of her father in battle, is depicted as so devoted to both governing well and educating herself that she has spurned any kind of serious romance or marriage. When she was pressured from her councillors and court to marry her hero-cousin Karl Gustav and produce an heir, she said "I shall die a bachelor." (Video) One day Christina escapes the restrictions of her royal life,
by sneaking out of town, disguised as a man. She ends up snowbound at an inn, where she has to share a bed with also stranded Spanish envoy Antonio (John Gilbert). The two fall in love, he not knowing she is the Swedish Queen until reaching the capital. Count Magnus (Ian Keith), who wants the Queen's affections for his own, riles up the people against the Spaniard. Christina abdicates the throne and leaves Sweden to catch up with Antonio. However she finds him gravely wounded from a sword duel he had with Magnus, and dies in her arms. Christina resolves to sail to Spain and resides in Antonio's home on a cliff by the sea.
The film's romance with the Spaniard was fictional. However, Christina's affection for her lady in waiting Countess Ebba Sparre was historically accurate. Christina introduced Sparre to the English ambassador Whitelocke as her "bed-fellow". After Christina left Sweden, she continued to write passionate love letters to Sparre, in which she told her that she would always love her. In the film, Christina (Garbo) kissed Ebba (Elizabeth Young) twice when the Countess enters and leaves her room ("the screen's first lesbian kiss"). Both Queen Christina and Greta Garbo remained unmarried and many thought they were lesbians or androgynous. (Images: Garbo & Gilbert in Queen Christina, Alt Film Guide; Kissing photos from screen shots of Queen Christina, YouTube)
But that honor goes to Marlene Dietrich in Morocco when clad in a tuxedo
and singing in a cabaret she plants a kiss on a woman drinking there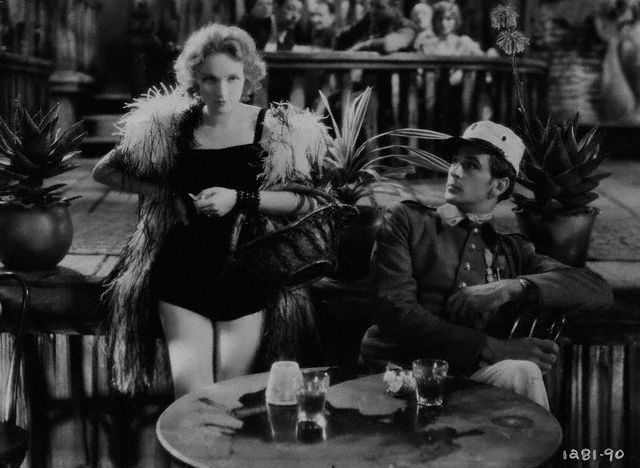 Morocco is a 1930 film directed by Josef von Sternberg. It stars Gary Cooper, Marlene Dietrich, and Adolphe Menjou. The plot involves a Foreign Legionnaire Tom Brown (Gary Cooper) meeting and falling in love with a cabaret singer (Marlene Dietrich). La Bessiere (Adolphe Menjou), a rich playboy, also vies for the singer's love. After Tom Brown leaves Amy Jolly, she becomes engaged to the wealthy La Bessiere. However, when Amy hears the legionnaires' drumming, she leaves her engagement party to find Tom. At an outpost's inn, she sees a heart carving "Tom Loves Amy" on a table,
and realizes that Brown still loves her. She leaves La Bessiere and marches into the desert as the legionnaires leave town. The film is probably most famous today for a scene in which Dietrich performs a French song dressed in a man's tuxedo and kisses another woman, both rather scandalous for the period. (Images: Dietrich & Cooper in Morocco, Picas Web Albums; Kissing photos from screen shots of Morroco, YouTube)
When Mercedes de Acosta published
her Here Lies the Heart

Mercedes de Acosta (1893-1968) was an American poet, playwright, costume designer, and socialite, best known for her numerous lesbian affairs with Hollywood personalities including Marlene Dietrich, Greta Garbo, Alla Nazimova, Tamara Karsavina, Eva Le Gallienne, Isadora Duncan, Katharine Cornell, Ona Munson, Adele Astaire and, allegedly, Tallulah Bankhead, amongst others, which she documented in her controversial autobiography Here Lies the Heart (1960). It was a reputation not appreciated by everyone. As Alice B. Toklas, the lover of Gertrude Stein, wrote to a disapproving friend, Anita Loos, "you can't dispose of Mercedes lightly— she has had the two most important women in the US— Greta Garbo and Marlene Dietrich." Four of de Acosta's plays were produced, and she published a novel and three volumes of poetry. Robert A. Schanke has published the first book-length biography of Mercedes de Acosta in That Furious Lesbian (2003) as well as Women in Turmoil: Six Plays by Mercedes de Acosta (2008). (Images: Mercedes de Acosta, Laurence Frommer's Celebrity Page; Here Lies The Heart, Amazon.com)
both Garbo and Dietrich had been
her lovers as well as Isadora Duncan

Greta Garbo and Marlene Dietrich were considered the most famous Hollywood film goddesses in the 1930s. In 1931, soon after she moved to Hollywood, she met Greta Garbo. For the next 12 years, they had a unpredictable relationship. At times Garbo would shower Mercedes with flowers and gifts. Mercedes became so enamored that she pasted photos of Garbo into her Bible. They vacationed together, sunbathed in the nude, and even lived together for a time in 1932. When Garbo was being particularly aloof, Mercedes engaged in a love affair with another screen goddess Marlene Dietrich in 1932. Though Dietrich was married, it did not prevent her from showering Mercedes daily with bouquets of roses and carnations. When Dietrich was setting off for Europe, she wrote, "It will be hard to leave Hollywood now that I know you." She mailed Mercedes dozens of letters and telegrams, always signing off with love and kisses and saying, "I kiss your beautiful hands and your heart." On one occasion when Dietrich knew she would be late arriving to a dinner party hosted by Mercedes, she sent the following message: "My Love... please do eat and go to bed and wait for me there." (Schanke, That Furious Lesbian, p. 114)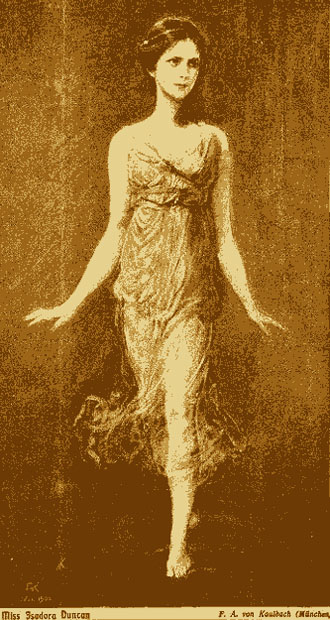 Isadora Duncan (1877-1927) was a dancer, considered by many to be the creator of modern dance. Duncan became so famous that she inspired artists and authors to create sculpture, jewelry, poetry, novels, photographs, watercolors, prints and paintings of her. When the Théâtre des Champs-Élysées was built in 1913, her likeness was carved in its bas-relief over the entrance by sculptor Antoine Bourdelle and included in painted murals of the nine muses by Maurice Denis in the auditorium. Both in her professional and private lives, Duncan flouted traditional mores and morality. She was bisexual. She had a lengthy and passionate affair with Mercedes de Acosta. Duncan and de Acosta wrote regularly in often revealing letters of correspondence. In one from 1927, Duncan wrote: "...A slender body, hands soft and white, for the service of my delight, two sprouting breasts round and sweet, invite my hungry mouth to eat, from whence two nipples firm and pink, persuade my thirsty soul to drink, and lower still a secret place where I'd fain hide my loving face...." (quoted by Hugo Vickers, Loving Garbo) In an inscription below a photo of herself, Isadora wrote to de Acosta: "Mercedes, Lead me with your little strong hands and I will follow you to the top of a mountain, to the end of the world, whichever you wish. Isadora, June 25, 1926." (Schanke, That Furious Lesbian, Photo 5 caption). De Acosta had once proclaimed that from the moment she first saw Isadora Duncan, she looked upon her as a great genius, and was taken by her completely. (Images: Greta Garbo, wikimedia commons; Marlene Dietrich, www.doctormacro.com/movie star pages/Dietrich, Marlene.htm; Isadora Duncan, reconstruction.eserver.org)

Ah those kisses of bliss swirling
in her life of romantic desires


Rita de Acosta Lydig (1875-1929) was Mercedes elder sister, 18 years her senior, an American socialite regarded as "the most picturesque woman in America". She was painted by Giovanni Boldini (1911) and John Singer Sargent. Isabella Stewart Gardner, the great collector and creator of the Gardner museum in Boston, once asked John Singer Sargent, why Rita had never expressed herself artistically. "Why should she?" Sargent answered, "She herself is art." Married at 19 to the multimillionaire, William Stokes (1895), she received a settlement of two million dollars when they divorced in 1900. In 1902, she married Captain Philip M. Lydig, a retired officer in the United States Army. Famous for her extravagant lifestyle, Rita would arrive at the Paris Ritz with a hairdresser, masseuse, chauffeur, secretary, maid, and forty Vuitton trunks." Lydig lived in New York, Paris and London, and counted Edgar Degas, Auguste Rodin, Leo Tolstoy, Sarah Bernhardt, Ethel Barrymore and Claude Debussy among her friends. Rita's extravagant lifestyle led to her divorces and bankruptcy in 1927. She suffered from poor health and had to sell her rare art objects to settle her debts for medical surgeries. She died on October 19, 1929 of pernicious anemia. Her personal wardrobe became the basis for the start of the Costume Institute at the Metropolitan Museum of Art.
Perhaps Mercedes got swept up in the social and artistic circles of her beautiful sister Rita. In 1916, she met the Russian actress Alla Nazimova who had wowed all the critics with her sensational performances of Ibsen's heroines. A romantic relationship quickly developed between them. Shortly thereafter she started an affair with young actress Tallulah Bankhead, and later dancer Isadora Duncan. Mercedes married Abram Poole, a wealthy portrait painter in 1920, but began a turbulent five-year relationship with actress Eva Le Gallienne. Other lesbian lovers Mercedes had were writer and stage actress Katharine Cornell, dancer Adele Astaire (Fred's elder sister), actress Ona Munson (portrayed the voluptuous Belle Watling in Gone with the Wind with Clark Gable), and Russian ballerina Tamara Karsavina, who remained Mercedes' friend till the end. When Mercedes published her autobiography Here Lies the Heart (1960), reviews were enthusiastic. Her friend Cecil Beaton and Alice B. Toklas praised the book, but many of her lesbian lovers snubbed her. Mercedes had to sell her family Spanish diamond bracelets to pay for brain surgery and leg operation. She sold her Garbo papers and her correspondences and memorabilia to the Philadelphia Rosenbach Museum. She died at age 75 on May 9, 1968, in relative poverty and obscurity. (Images: Mercedes' sister Rita Lydig, Wikipedia; Mercedes' lovers: click photos for image source, click names for Wikipedia biography)

came to an end when she met Ramana
who taught her the bliss of "Know Thyself"

"In the mid-1930s, Mercedes had attended a dinner pary where she met the English mystic and philosopher Paul Brunton, who had only recently published his book A Search in Secret India [1934]. She was so intrigued with him that she went out immediately, bought a copy, and began to study his philosophy." (Robert A. Schanke, That Furious Lesbian: The Story of Mercedes de Acosta, 2003, p. 132). In Mercedes' autobiography Here Lies the Heart, she writes— "A Search in Secret India had a profound influence on me. In it I learned for the first time about Ramana Maharshi, a great Indian saint and sage. For days and night after reading about him I could not think of anything else... From this time on, the whole direction of my life turned toward India and away from Hollywood." Mercedes made her visit to Ramana's ashram for three days in November 22-24, 1938 (Extracts from book). Since Eva Le Gallienne thought Mercedes' book should have been called Here the Heart Lies and Lies and Lies, I wondered whether Mercedes lied about her Ramana visit in India. Since I bought Talks with Sri Ramana Maharshi (1968) from Anthony Damiani's American Brahman Bookshop when it was published in 1968,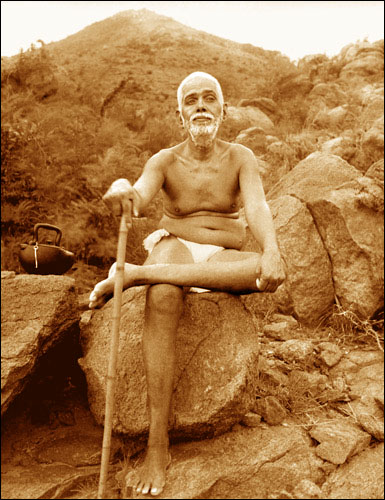 I checked up the dates of Mercedes visit and found "21st, 22nd November, 1938— Mr. V. Ganapati Sastri showed Sri Bhagavan [Ramana] a letter from a Spanish lady, Mercedes De Acosta, saying she would be coming here the next day. Bhagavan remarked: "See the trouble of so many because I am here" (p. 538). "24th November, 1938— The Spanish lady and her lady friend have come. They asked: You say the Heart is on the right. Can you explain how it is so? Sri Bhagavan handed over the extract from the Psychological Review of Philadelphia for her to read. He also added, the Heart is the place wherefrom the 'I'-thought arises. Mercedes: So you mean the spiritual Heart as distinguished from the physical heart? Ramana: Yes. It is explained in Ch. V of Sri Ramana Gita. Mercedes: Is there any stage when one might feel the Heart? Ramana: It is within the experience of everyone. Everyone touches he right side of his chest when he says 'I'. Both ladies kneeled before Sri Bhagavan one after another and asked for blessings. Then they left for Pondicherry on their way to Colombo" (page 539). Another entry is on "15th December, 1938— The Spanish lady, Madam Mercedes De Acosta, has written a letter to Mr. Hague, the American mining engineer who is here as a temporary resident for the last two months. She asked "If the individual Self merges into the universal Self, how can one pray to God for the uplift of humanity?" Ramana: "They pray to God and finish with 'Thy Will be done!' If His Will be done why do they pray at all?... Recognize the force of the Divine Will and keep quiet. Help yourself and that is itself according to God's Will... You desire others' happiness so that you may be happy. Or you want the credit for having interceded on others' behalf. God does not require an intermediary. Mind your business and all will be well." (pp. 546-547) Ramana taught that "Real happiness abides in Self-knowledge alone. All else is fleeting. To know one's Self is to be blissful always." (Happiness Project). When Mercedes asked about prayer for others, Ramana said "Real prayer is to abide within the Self. This is the meaning of Tat Twam Asi— That Thou Art. There can be no separation in the Self. There is no need for prayer for yourself or any person other than to abide within the Self." Mercedes writes "I feel it presumptuous to say he changed my life... after I had been in his presence was sufficient spiritual nourishment for a lifetime... There was a change— a transformation of my entire consciousness. And how could it have been otherwise? I had been in the atmosphere of an egoless, world-detached, and completely pure being." In Mercedes' copy of Ramana's Truth Revealed, she marked with a red pencil "Clear away all mental dispositions, by steady and incessant meditation in the Heart" (Robert A. Schanke, That Furious Lesbian: The Story of Mercedes de Acosta, 2003, p. 134). In her meeting with Ramana, Mercedes inquired about the heart. So her autobiography Here Lies the Heart has two meanings— her passionate lesbian loves and emotional upheavals, and her ardent spiritual quest to find enlightenment and peace in her heart. (Images: Ramana Maharshi, HariHarji.blogspot.com; Ramana with Arunachala Peak, www.arunachala-ramana.org)

Peter Y. Chou
Mountain View, 2-16-2011