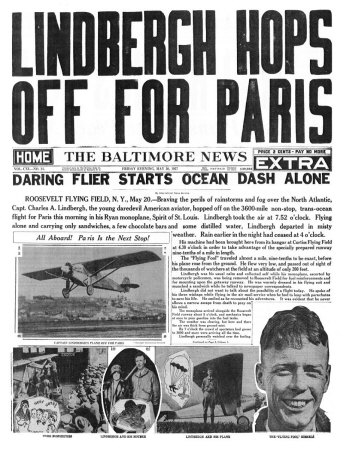 Baltimore News (May 20, 1927)
"Lindbergh Hops Off For Paris"
Braving the perils of rainstorms
and fog over the North Atlantic

Origin of Lindy Hop
New York Times May 22, 1927: "Lindbergh Does It! To Paris in 33 1/2 Hours; Flies 1,000 Miles Through Snow and Sleet; Cheering French Carry Him Off Field". 25-year-old Charles A. Lindbergh made his solo flight May 20-21, 1927 from Roosevelt Field, Long Island, NY to Le Bourget Field in Paris, France. He flew the 3600 miles trans-Atlantic flight in a Ryan monoplane Spirit of St. Louis. Dance.org says Lindy Hop was so named after Lindbergh's flight to Paris in 1927, when the newspaper headline read: "LINDY HOPS THE ATLANTIC". The dance has no "hop" in it, but is smooth and solid, and while there is a constant rhythmic 8-count "pulse" that you feel in your bones, there is no hopping, bopping, or prancing in the dance. But Swing History 101 claims "Shorty" George Snowden (1904-1982), an American dancer in Harlem during the 1920s and 1930s, is credited with coining the name "Lindy Hop" for a popular partner swing dance of the day. He also brought Breakaway to the mainstream of Swing Dancing (1929), by swinging his partner from the closed to the open position.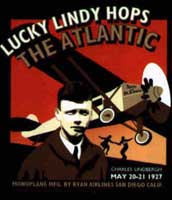 Charles Lindbergh
May 20-21, 1927
Monoplane Mfg.
By Ryan Airlines, San Diego