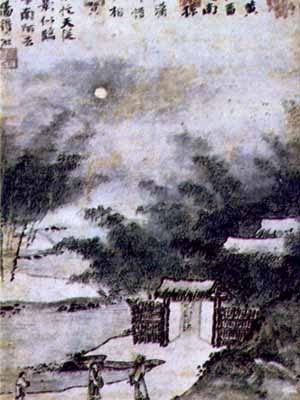 Moonrise over a Brushwood Gate (1405)
Fujita Art Museum, Osaka, Japan

Lower part of the hanging scroll (129.2 cm x 31 cm). Ink on paper.
At top of the scroll there is a collection of poetry & prose by 18 zen priests.
This scroll has been designated as National Treasure of Japan.


---

Open the gate and through the mist and vines,
now you catch them, now you don't; water and bamboo.
Seeing off my guest, we come halfway through the river town.
The bright moon doesn't know people's pain in parting,
It just attends, indifferent and remote, and for that, brighter still.

— East of the River, Shingen


Tall bamboo along the river, the [...] sun declines,
By the sandy embankment, the river is low, there's a narrow path.
Seeing off a friend from a brushwood gate, as I return alone,
The bright moon... and resides upon my robe.

— Chûkakû


Near the water a brushwood door, the bamboo looks like clouds.
A visitor has come by chance, but we talk of lofty things 'til the sun's full set.
It's rare to find one of such sensibility together with a lovely scene.
Why should it be that in welcoming the moon, I must bid you farewell?

— [...] Village, Bonpô


---

Notes taken by Peter Y. Chou (WisdomPortal.com)
Thursday, February 16, 2012, 12:15-1:45 pm, Building 70, Room 72A1 (Main Quad), Stanford University,
Ho Center Buddhist Lecture on Japanese Religion: Professor Tom Hare (Princeton), "A Place for the Mind"