Commentary on Poem: "Betty Carter Blues"
Summon a genii in / some ancient lamp and / ride a magic carpet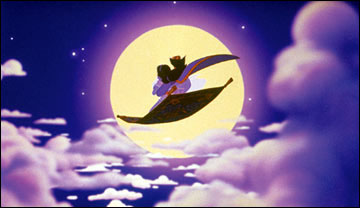 Images from 1000 Nights— The genii emerged from "Aladdin's Wonderful Lamp" to grant his wishes. A magic carpet, also called a flying carpet, is a legendary carpet that can be used to transport people who are on it instantaneously or quickly to their destination. The magic carpet appears in Walt Disney's film Aladdin (1992). An article "Physicists make ripples with their magic carpet" appeared in Nature, Vol. 450, 138 (December 17, 2007). A team of Harvard scientists has come up with instructions for how to make a flying carpet.

She shakes her rattle / of sand and pebbles inside / the old goat-skin drum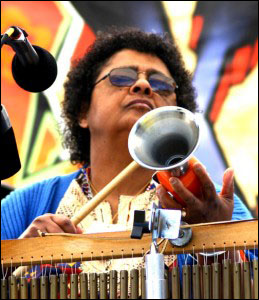 Avotcja stopped reciting her poem and picked up a round rattle drum, shaking it in a circular or spirally motion. As she did so, the sand and pebbles within the goat-skin drum made an eerie hissing noise as though a storm is coming. This reminded me of Rainer Maria Rilke's poem "I Live My Life in Growing Orbits": "I am circling around God, around the ancient tower, / and I have been circling for a thousand years, / and I still don't know if I am a falcon, or a storm, / or a great song." (Robert Bly translation).
land of Scheherazade's A Thousand and One Nights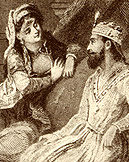 We're travelling in space-time to Arabia, where Scherherazade told her tales to King Shahryar for 1001 nights that saved her life. The tales themselves trace their roots back to ancient and medieval Arabic, Persian, Indian, Egyptian and Mesopotamian folklore and literature. The first English edtion appeared in 1706. The oldest Arabic manuscript dates from the 14th century, but some go as far back as the 9th century. The first European version in 12 volumes (1704-1717) was translated into French by Antoine Galland from an Arabic text. Sir Richard Francis Burton's 10 volumes English translation The Book of the Thousand Nights and a Night appeared in 1885.
But I find no Sinbad / nor Aladdin nor / Ali Baba
"The Seven Voyages of Sinbad the Sailor", "Aladdin's Wonderful Lamp", and "Ali Baba and the Forty Thieves" are all tales from Scherheraade's 1001 Nights.
Betty Carter eating / up mikes by the dozen / in jazz clubs all night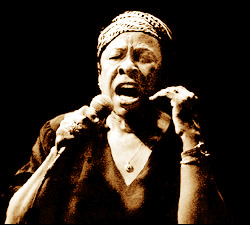 Avotcja's line "Betty Carter ate up the microphones by the dozen" triggered this poem. Betty Carter (1929-1998) was an American jazz singer renowned for her improvisational technique and idiosyncratic vocal style. One of the most expressive and original singers to come out of the post-World War II era, Betty Carter thrilled audiences with her daring vocal improvisations and her no-nonsense jazz attitude. She emerged from the Detroit bebop scene and joined Lionel Hampton's big band in 1948, then went on to record sporadically throughout the 1950s and 1960s, making her biggest mark through a duets album with Ray Charles. Above all, she thought of herself as a musician, once saying, "When it's all over for me, I would like it said that Betty Carter was not just a singer, but a jazz musician AND a singer."
Overpowering— / ever flowering— / that's Betty Carter singing
This haiku was written when these words tumbled out from Avotcja's poem.
the blues— Lover man, / feed the fire, I'm all smiles, / all or nothing at all.
"Lover Man", "Feed the Fire", "I'm All Smiles", "All or Nothing at All"
are songs from Betty Carter's 1993 Verve live album Feed the Fire.
New blues with no words— / we tried happy sounds / ev'ry time we say goodbye
"New Blues", "With No Words", "Ev'ry Time We Say Goodbye" are songs
from Betty Carter's 1982 Verve live album Whatever Happened to Love?
"We Tried", "Happy", "Sounds" are songs from The Betty Carter Album (1976).
I'm yours, you're mine / imagination close your eyes / this time you're mine, you.
"I'm Yours, You're Mine", "Close Your Eyes", "This Time" are songs
from Betty Carter's 1996 Verve album I'm Yours, You're Mine.
"Imagination" is from Look What I Got! (1988 Verve album).
"You're Mine, You" is from It's Not About the Melody (1992 Verve album).
Look what I got— / I should care the man I love, / the good life, make it last.
"Look What I Got!", "The Man I Love", "The Good Life", "Make It Last"
are songs from Betty Carter's 1988 Verve Records album Look What I Got!.
"I Should Care" is a song from It's Not About the Melody (1992 Verve album).