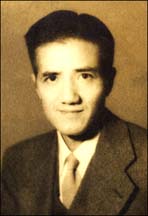 Tsien Chung Chou, New York, 1949
Tsien-Chung Chou, early activist for Chinese freedom and democracy, passionate scholar of history, and UN diplomat, passed on peacefully December 13, at Kaiser Hospital Santa Clara, California. He was 98. He was a resident of Queens, New York for 30 years, and Palo Alto for 20 years. He participated in the birth of the United Nations at London, and Lake Success, Long Island before its move to Manhattan, as well as sessions in Paris and Geneva. During his life, he was Advisor to the Chinese Delegation to the United Nations (1946-1971), Chinese National Assembly representative in education (1948-1988), and Professor of European History at Guangzhou's Chung Shan University, Wuhan University, Szechwan University, and Shanghai University.
He was born in the Chinese village of Hupei in 1902, to a family of modest means. In 1928, his sister sold family heirlooms including her own wedding ring for his graduate studies at the Sorbonne University in Paris, where classmates included Jean-Paul Sartre and Simone de Beauvoir. He studied with historians Charles Seignebos, Albert Mathiez, Ferdinand Lot, and wrote his thesis "The Irish Rebellion: April 26, 1916" under Professor Pierre Renouvin. While in Paris, he joined the fiercely idealistic and intellectual Young China Party founded by fellow students Tseng Chi and Li Huang.

His passionate involvement in the Young China Party, which believed in written discourse over armed revolution, greatly shaped his life. When Japan invaded Manchuria in 1931, he donated his entire month's teaching salary towards freedom efforts in the Sino-Japanese War, a controversial action that landed him in prison. Humbled by his jail sentence, he changed his name from Te-P'eng (virtuos giant bird) to Tsien-Chung (modesty infused). After his release, he journeyed 1400 miles to marry his childhood sweetheart, Yvonne Liu, a teacher in Hupei. During World War II, he moved his family to Chengtu, where he taught at Szechwan University. There he became a lifetime friend of Joseph Needham, future author of Science and Civilization in China.

After World War II, General George C. Marshall consulted with him (1946-47) to negotiate a truce in the civil war between Chiang Kai-Shek and Mao Tse-Tung. He declined cabinet positions with limo services and preferred teaching history at several Chinese universities. In 1948, he was elected as a Chinese National Assembly representative in education. He became an advisor to the Chinese Delegation, moving his family from China to New York in 1949. He was an eyewitness to many historical events at the U.N. for 25 years, and brought his children there to hear President Eisenhower's "Atoms for Peace" speech in 1953.

After retirement from the U.N. in 1971, he maintained an active and scholarly life. He translated the philosophical works of the Neo-Confucian Chou Tun-Yi, and quoted from him often: "Sincerity is the foundation of the sage." After moving to Palo Alto with his wife in 1979, his daily routine for the next twenty years began with the 8am bus to Stanford's Hoover Library. Staff and students knew him well, and his courtesy desk was often piled high with over 200 books on European history and political science. Even at age 98, his favorite daily activity was reading biographies and The New York Times.

He is survived by his beloved wife of 66 years, Yvonne; sons Peter and Jimmy Chou; daughter Margaret Cheng; grandchildren André and Elisa Cheng, Emily, Marissa and Byron Chou; and great-grandsons Matthew and Christopher Cheng. A memorial service was held December 16 in Palo Alto.