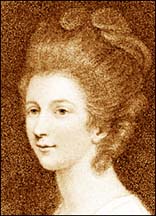 Charlotte Ramsay Lennox
engraving after a portrait
by Sir Joshua Reynolds
1752 Female Quixote or The Adventures of Arabella Published: This satire parodying Cervantes' style is the best work of Charlotte Lennox (1720-1804). She was born in New York, daughter of a British Colonel, James Ramsey, who was a governor of the colony. She grew up in Albany, NY, until age 15 when she was sent to live with an aunt in England, whom she found to be insane. Her father died soon after, and she tried to earn an living as an actress. When this failed, she turned to writing and was befriended by Samuel Johnson, Samuel Richardson, and Henry Fielding. In 1747, she married Alexander Lennox, and also published her Poems on Several Occasions. Her sentimental novels Life of Harriet Stuart (1750), Female Quixote (1752), and History of Henrietta (1758) were popular with women in her days. She also published an historical account of Shakespeare's source material in Shakespeare Illustrated (1754). Lennox died in London on January 4, 1804 at the age of 84. A summary of The Female Quixote tells of Arabella spending her time reading romances at her father's secluded castle. She began believing the romances to be true and models her life after them. Arabella's obsessions lead her through many adventures. After diving into a river, she falls ill, and a doctor comes to treat her. Using cold logic, he dissolves Arabella's misconceptions. Amazon.com has 14 sample pages from The Female Quixote.