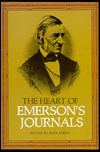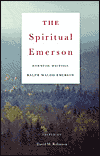 Books on Ralph Waldo Emerson:
Robert D. Richardson, Emerson: The Mind on Fire (reprint 1996), University California Press, ISBN: 0520206894— Ralph Waldo Emerson (1803-1882) is one of the most important figures in the history of American thought, religion, and literature. The vitality of his writings and the unsettling power of his example influence readers to this day. Drawing on a vast amount of new material, this award-winning book brings to life an Emerson very different from the stereotype of the passionless Sage of Concord, providing a rewarding intellectual biography that is also a portrait of the whole man. The author explores the influences of Carlyle, Coleridge, Goethe, Madame de Stael, and Oriental philosophy on Emerson. Through a study of Emerson's voluminous reading, Richardson reveals the origins of key Emersonian doctrines such as self-reliance, the soul's transcendence, and the mind as an active volcano. I enjoyed reading about Emerson's dream of an angel feeding him an apple, and Emerson saying: "And I ate the world." Perhaps this is why Virginia Woolf said of Emerson's Journals, that "he cannot be rejected because he carries the universe within him."
Avg. Review (16):
• Lawrence Buell,
Emerson
Belknap Press of Harvard University Press (May 2003), 397 pp.
Avg. Review (1):

• Richard Geldard,
God in Concord: Ralph Waldo Emerson's Awakening to the Infinite
Larson Publications (November 1998), 199 pp.
Avg. Review (1):

• Richard Geldard,
The Spiritual Teachings of Ralph Waldo Emerson
Lindisfarne Books (March 15, 2001), 224 pp.
Avg. Review (4):

• Harmon Smith,
My Friend, My Friend: The Story of Thoreau's Relationship With Emerson
University of Massachusetts Press (January 2001), 248 pp.
Avg. Review (4):

• Ralph Waldo Emerson (Joel Porte, Editor)
Ralph Waldo Emerson: Essays and Lectures
Library of America (November 1983), 1321 pp.
Avg. Review (3):

• Ralph Waldo Emerson (Brooks Atkinson, Editor; Mary Oliver, Introduction),
The Essential Writings of Ralph Waldo Emerson
Modern Library (Sept. 2000), 880 pp.
Avg. Review (9):

• Bliss Perry (Editor),
The Heart of Emerson's Journals
Dover Publications (May 1995), 384 pp.
Avg. Review (2):

• Ralph Waldo Emerson (David M. Robinson, Editor),
The Spiritual Emerson : Essential Writings
Beacon Press (April 2004), 280 pp.
• Ralph Waldo Emerson (Harold Bloom & Paul Kane, Editors)
Ralph Waldo Emerson: Collected Poems and Translations
Library of America (August 1994) 637 pp.
• Barry Maxwell Andrew,
Emerson As Spiritual Guide: A Companion to Emerson's Essays
for Personal Reflection and Group Discussion
Skinner House Books (May 2003), 142 pp.
• Kenneth S. Sacks,
Understanding Emerson:
The American Scholar and His Struggle for Self-Reliance
Princeton Univ Press (April 2003), 214 pp.
• Richard L. Grossman (Editor) & Barry Moser (Illustrator)
A Year With Emerson: A Daybook
David R Godine, 1st edition (April 2003), 231 pp.
• John G. Rudy,
Emerson and Zen Buddhism (Studies in American Literature, Vol 42)
Edwin Mellen Press (February 2002), 278 pp.
• Joel Porte (Editor),
Emerson in His Journals
Harvard Univ Press, Reprint edition (March 1984), 588 pp.
• Keith Weller Frome (Editor),
Hitch Your Wagon to a Star and Other Quotations by Ralph Waldo Emerson
Columbia University Press (April 1996), 130 pp.