Morning Has Broken
On 4-18-2006, I received this email from Andrea:
Peter -
Just wanted to let you know that
your site inspired my blog today...
I provided a link to your site as well.
Really wonderful site! Thank you.

I've not answered dozens of emails telling me how this web site inspired them.
So when I went to Andrea's Blog, I learned that the poem she linked to
was Pablo Neruda's "Keeping Quiet" (1958) from my Poetry on Peace.
I'm glad that Andrea selected this poem on a day celebrating the 100th Anniversary
of the 1906 Earthquake that devastated San Francisco. The title of her April 18 Blog
is "Keeping Quiet" the same as Neruda's poem. Andrea's April 14, 2006 Blog is titled
"Morning Has Broken"— Cat Steven's song with a photo from her back yard at 6 am.
It's so beautiful and peaceful. The photos in recent Bay Area newspapers showing
how the Earth was broken on that day a century ago, remind us how fragile we are
when confronted with the forces of Mother Nature. Unless we tap into our inner
silence and experience the "peace that passeth all understanding", we will not
be able to help others in time of need. I'm now including Andrea's photo and
Cat Steven's song with the others poems on peace. May Peace be with us always.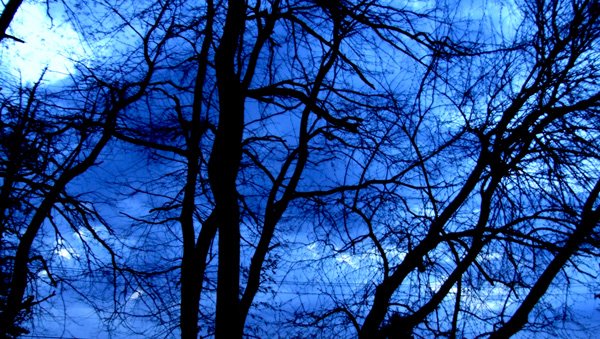 Photograph © Andrea Lee (April 14, 2006)
Morning Has Broken
As sung by Cat Stevens (MP3 File)
Lyrics by Eleanor Farjeon

Morning has broken, like the first morning
Blackbird has spoken, like the first bird
Praise for the singing, praise for the morning
Praise for the springing fresh from the world

Sweet the rain's new fall, sunlit from heaven
Like the first dewfall, on the first grass
Praise for the sweetness of the wet garden
Sprung in completeness where his feet pass

Mine is the sunlight, mine is the morning
Born of the one light, Eden saw play
Praise with elation, praise every morning
God's recreation of the new day

**********************************************
| Cat Stevens Web Site | Fan Cover Songs |
| Morning Has Broken: MP3 File | Midi 1 | Midi 2 |



| Top of Page | Gratitude | Peace | Poetry | NY Times |
| References | Enlightenment | A-Z Portals | Home |



© Peter Y. Chou, WisdomPortal.com
P.O. Box 390707, Mountain View, CA 94039
email: