May 8, 1945— The New York Times: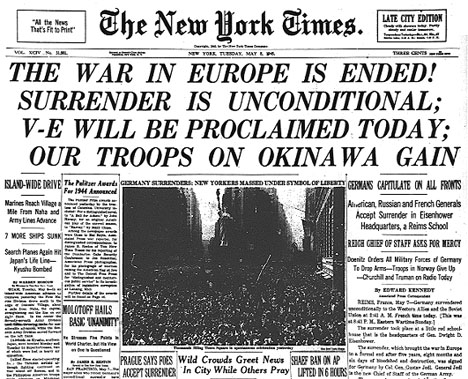 Read the May 8, 1945 issue of New York Times
President Harry S Truman announced the end of war in Europe (V-E Day) over radio at 9 am, Tuesday, May 8, 1945. Truman was born in Lamar, Missouri, on May 8, 1884, so the good news came on his 61st birthday. Harry Truman was a 33-degree Mason and also the 33rd President of the United States. Here is my one page Bio-Sketch of Truman for students using the Internet. More links to Truman resources on the web.
May 8: Born on this day—
1737 Edward Gibbon, British historian
(Decline & Fall of Roman Empire)
1753 Miguel Hidalgo, Father of Mexican Independence
1786 Thomas Hancock, Founder of British rubber industry
1828 Henri Dunant, Swiss humanitarian, founder of Red Cross,
First Nobel Peace Laureate (1901)
1829 Louis Moreau Gottschalk, first internationally
recognized U.S. pianist
1846 Oscar Hammerstein, German opera playwright
1869 James Rowland Angell, American psychologist, president of Yale
1884 Harry S Truman, Missouri, 33rd President of United States
1895 Edmund Wilson, NJ, American essayist & literary critic
1895 Fulton J. Sheen, American bishop (Life Is Worth Living)
1899 Friedrich von Hayek, Austrian-born British economist, Nobel 1974
1906 Roberto Rossellini, Italian film director (Open City)
1914 Romain Gary, French novelist, war hero, diplomat
1919 Leon Festinger, psychologist, theories of cognitive dissonance
1926 Don Rickles, Queens, NY, comedian
1926 Richard Attenbrorough, environmentalist & zoologist (BBC)
1928 Theodore Sorenson, Presidential advisor to JFK, author
1930 Gary Snyder, San Francisco, CA, Beat poet
(Riprap and Cold Mountain Poems)
1937 Thomas Pynchon, Glen Cove, NY, novelist (V, Crying of Lot 49)
1940 Peter Benchley, author (Jaws, The Deep)
1940 Ricky Nelson, NJ, rock star (Poor Little Fool, Garden Party)
1942 Angel Cordero, Jr, jockey (Seattle Slew, 1978 Kentucky Derby)
1943 Toni Tennille, singer (Love Will Keep Us Together)
1953 Alex Van Halen, rock drummer
1957 Bill Cowher, NFL head coach (Pittsburgh Steelers) & sportscaster
1958 Lovie Smith, NFL head coach (Chicago Bears)
1959 Ronnie Lott, NFL defensive back (SF 49er)
1964 Melissa Gilbert, LA actress (Little House on the Prairie)
1975 Enrique Iglesias, Spanish singer-songwriter (100 million records)
1982 Adrian Gonzalez, first baseman baseball player (Boston Red Sox)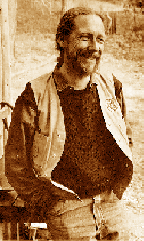 Gary Snyder, born May 8, 1930
San Francisco, California
Poetry Pulitzer Prize
for Turtle Island in 1974.
"Riprap" by Gary Snyder
Lay down these words
Before your mind like rocks.
placed solid, by hands
In choice of place, set
Before the body of the mind
in space and time:
Solidity of bark, leaf or wall
riprap of things:
Cobble of milky way,
straying planets,
These poems, people,
lost ponies with
Dragging saddles—
and rocky sure-foot trails.
The worlds like an endless
four-dimensional
Game of Go.
ants and pebbles
In the thin loam, each rock a word
a creek-washed stone
Granite: ingrained
with torment of fire and weight
Crystal and sediment linked hot
all change, in thoughts,
As well as things.